Lincoln Park Angels
The Lincoln Park Angels are a town based fastpitch travel softball program featuring teams playing at the 10U, 12U and 14U levels. Based out of Lincoln Park, New Jersey, we are supported by our parent organization, the Lincoln Park Police Athletic League (PAL) and the PAL's recreation softball program.
NEW SCHEDULE FOR EVALUATIONS
When: Saturday, October 20th
10:00 AM – 11:00 AM – 12U
Saturday, October 27th(Note Different week)
9:00 AM – 10:00 AM – 10U
Please contact CoachJames@lpangels.com or CoachRory@lpangels.com if you are interested in trying out for the 14U and we'll arrange a date.
Where: Lanes Fields, Ryerson Rd., Lincoln Park
Eligibility: 10U - You must be born in 2008 or later
12U - You must be born in 2006 or 2007
14U - You must be born in 2004 or 2005
Bring your cleats, glove/mitt and most of all a smile and some hustle and find out what the Lincoln Park Angels are all about!
Spring Fever
Spring Fever 2019 is scheduled for April 5th - 7th, 2019
Registration information to come later in 2018
2018 14U Angels - Second Place Tenafly Safe at Home Tournament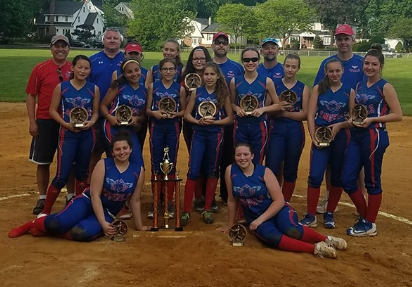 2018 14U Angels - Second Place LPA Softball League